From the March 11, 2017 Panama City News-Herald
By Eryn Dion
Facing teacher shortages in a variety of subjects, Bay District Schools is diversifying its recruiting methods in order to attract — and keep — new teachers.
Nine subjects are seeing a "critical shortage," according to Human Resources Executive Director Sharon Michalik. A critical shortage area is an area that attracted five or fewer qualified applicants in the last year. The district offers one-time bonuses of $5,000 for new hires who have certification in a critical shortage field, and a $1,000 bonus for current teachers who obtain a certificate in a critical shortage area.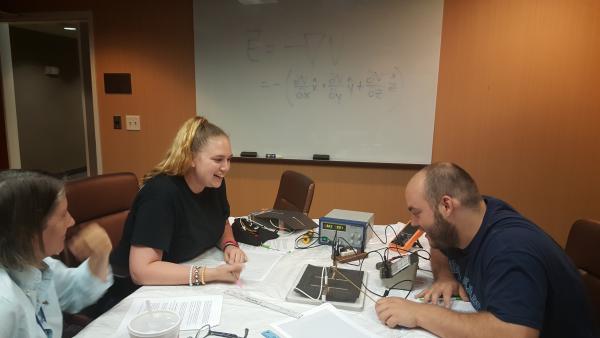 The critical shortage areas are: autism, Latin, secondary math, secondary reading, visually impaired, biology, chemistry, physics and hearing impaired. A potential recruit doesn't need to have a bachelor's degree in that field to become a teacher.
"A bachelor's degree in almost anything can be parlayed into a teaching certificate," Michalik said. "A bachelor's in environmental science can become a teaching certificate in any of the sciences."
In fact, Michalik's motto when recruiting is — "OK, we can do that." There's always a path to becoming a teacher, she says, though it may not always be easy.
"I haven't met one yet I can't work with," she said.
Michalik said the district will send attachments to surrounding colleges for recruitment fairs and soon she'll be heading over to Florida State University Panama City to meet with math and science students — not those in the education program — to get them to try teaching.
"It might not be their dream job, but it will work for a few years," she said.
There are also a number of benefits that come with teaching, like partial student loan forgiveness for those who teach at a Title I school for five years, or programs that will help pay for them to continue their education as long as they're teaching.
"If they pick the right job at the right school, it could be a big weight off their shoulders," Michalik said.
Oftentimes the biggest barrier to recruiting teachers is a lack of understanding. Michalik said many believe they already need a teaching certificate to apply. The state's website isn't exactly clear in that regard, and she said many people end up being discouraged.
The state's required exams are also an obstacle in keeping new hires, Michalik said. New teachers are required to pass three state exams within their first year: a professional knowledge exam, a subject area test and a general knowledge exam. That general knowledge exam, which covers everything from math to grammar and writing, can be difficult, especially for older recruits who haven't had to take a test like that in a long time. Michalik said the exam has about a 32 percent pass rate and costs $200 every time they want to take it.
"What we see is really good people in the classroom struggling to pass that exam," Michalik said. "We had to let some good teachers go."
To help address that issue, Michalik said the district has started a free general knowledge test boot camp, bringing together teachers from each subject on the exam to help shore up their new recruits. She said they've seen great success, and that probably about 80 to 90 percent of the teachers who go through the boot camp pass their general knowledge test.
Michalik said right now is a great time for anyone looking to get their feet wet as a substitute teacher and get experience ahead of the district's big hiring push in May and June. Anyone interested in becoming a teacher, or anyone wondering if they can become a teacher can contact Michalik at 850-767-4278.